This is a tutorial on how I have made the largest of the decorated Butterflies on the recent Mother's Day Basket, I have also used this one to make a card for my DT project this week following the Sketch below. For these you will need the following….





Card to stamp on to, preferably thin white, coated cardstock.




Acrylic Block for stamping.




Ink Pad in black or dark brown. I have used Memento, as I will be colouring with Promarkers.




Colouring Pens/pencils….. I have chosen three colours of Promarkers, but this is entirely up to you which you choose. I haven chosen, Cocoa for the Butterfly's body and Meadow Green along with Cool Aqua for the wings.




Scissors or craft knife.




Ranger Glossy Accents or similar, like Diamond Glaze.




A small cheap Paintbrush.




Ranger's Beadazzles… For this example I have chosen 'Electric Blue' and 'Disco Ball'.




Tray for collecting the loose beads… they get everywhere!




Adhesive flat backed black beads or pearls in small and large sizes.




4" piece of florists wire or similar for the Antenna.




Silicone Glue or Similar …….. you can use 3D foam pads but the result is not quite as good.




Double Sided Tape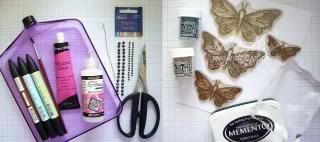 For each completed butterfly you need to stamp out two of each size butterfly onto suitable cardstock.
(If you want smaller butterflies, you wont need to use as many layers).
Colour in with markers or pencils.
Then paint over each butterfly with a thin layer of glossy accents. Leave to dry flat.
Don't worry about going over the edge with the glossy accents as once the butterflies are dry you need to cut them out carefully around the outline… it is safe to cut off the antennae as this will not be used on this project.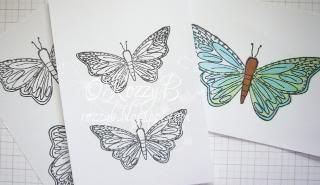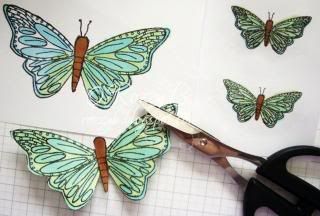 When dry, curl the wings using the handle of the paintbrush


Separate into two piles containing one of each of the four sizes of Butterflies.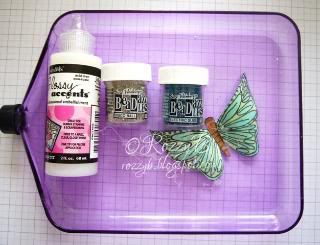 Take one pile of butterflies and carefully paint the edges of the larger sizes, one at a time with the Glossy Accents again.
Whilst wet, sprinkle over the Beadazzles over the tray and leave to dry.
The smallest of the butterflies can be completely covered in Glossy Accents and then covered with the Beadazzles, but be careful not to coat the body of the butterfly.
This is what they should look like.....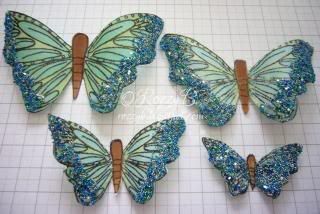 When fully dry, pair up using the other pile of butterflies and place the one without the beads underneath each beaded butterfly.
Using some silicone glue to give the paired wings height, add the glue to the wings close to the body. Leave aside to dry.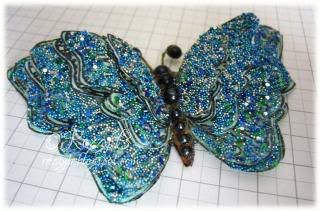 Then assemble all the paired butterflies on top of each other, the smallest on the top, using a thin layer of silicone glue. Press the body flat and adhere the flat backed beads/pearls along the body, starting with the largest at the head end.
When the butterfly is fully dry, bend the florists wire to form a pair of antennae and attach to the underside using some double-sided tape, making sure that it is laying flat. The butterfly is now ready to use on your project.
Below is my DT Project for this week over at The Crafty Pad. I have used my Butterfly as made above and made a card following the Sketch below, which is this week's challenge.
Papers are from K&Co and plain card is DCWV. Flowers are from Prima and all other embellishments are from stash.
These Butterflies do take a long while to make, but they are well worth it.
They are enjoyable to create and they look stunning. Glitter could be used in place of the Beadazzles if you wish.
I hope you have enjoyed this Tutorial
If you have got this far, thanks so much for staying with me and for reading all this. I hope you have found it useful…. This is my first ever tutorial, so I would be happy to receive any feedback… good or bad, or if you have found any different ways of creating similar I would love to hear from you and see any of your creations.
Hugs rozzy xx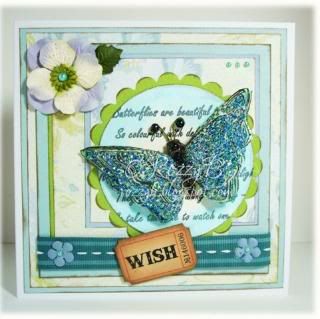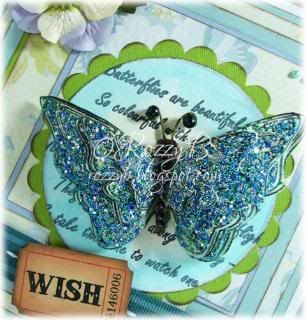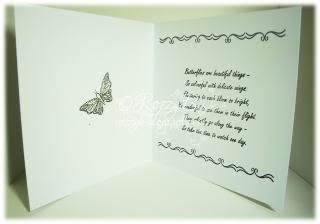 This tutorial is really worth a try as the effect you get is stunning. Anyone who uses
The Crafty Pad Butterflies
and this tutorial please link back to us and you will get your creation in 'The spotlight'
xxThe Crafty Pad Teamxx